The American Chamber of Commerce in Russia invites members to participate in a webinar on Friday, July 10, 2020, at 12:00 noon (Moscow time).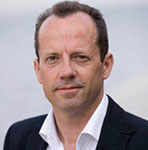 SME Briefing: Russian National Projects
Insights into the Russian Investment Agenda
Jeroen Ketting
Founder and owner of the Lighthouse Group
Have you heard about Russia's National Projects but want to know more? Are you interested in the long-term Russian investment agenda?
Then you will be interested in our webinar on Russian National Projects on Friday, July 10!
The webinar will focus on the Russian national projects in healthcare, infrastructure and water and waste management. We will bring you up to speed with a summary of the results of a new market study.
This event is open to AmCham members only.
AmCham members are welcome to join this event online. In order to participate, it is essential to register via the AmCham website using the link below. A link and meeting number will be sent in advance to all registered members only.